Discover your most beautiful smile.
Few cosmetic dentistry treatments are more life-changing and appearance-altering than porcelain veneers. They can correct a number of aesthetic deficits: misshapen or chipped teeth, misalignment, gaps, discoloration, or stains.
What are porcelain veneers?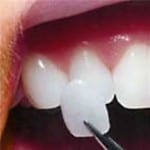 Porcelain veneers are thin pieces of porcelain, about the thickness of a fingernail, that are bonded to the front part of your teeth, instantly creating a beautifully straight, bright white smile.
Porcelain is a strong ceramic that closely mimics the appearance of your natural teeth. It resists stains better than your own tooth enamel, and does a better job recreating tooth structure than any other material used to restore teeth.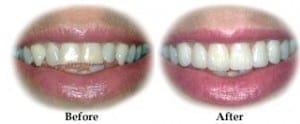 The images to right are an example of the beautiful results that can be achieved with porcelain veneers in the hands of a gifted cosmetic dentist. Notice how the worn front teeth have been reshaped, creating a fuller, more inviting smile line.
What do you want your new smile to say?
Dr. Patel will work with you to design the most beautiful, natural smile for your unique personality and physique. The process begins with a thorough discussion of your smile goals and expectations. With your preferences in mind, Dr. Patel will consider your age, gender, complexion, and facial structure to carefully plan the ideal size, shape, and color of veneers to complement your natural looks.
Dr. Patel's Process
After discussing your smile goals, Dr. Patel will take images of your teeth and facial structure to create a digital representation of how you will look with your new smile. You'll be able to compare your new smile design side-by-side with your current photographs to fully appreciate the improvements. In some cases, Dr. Patel will create a three-dimensional wax replica to demonstrate how your new smile will look.
Next, Dr. Patel will use direct bonding to replicate the way your veneers will look so that you can "test drive" your new smile before the veneers are crafted by the laboratory.
Dr. Patel will then prepare your teeth by shaving a small amount of enamel off the front of your tooth prior to bonding the veneer. This preparation helps preserve the natural contour of your teeth, preventing the veneers from appearing bulky, and ensuring that the veneers fit seamlessly against your gumline.
Once your custom porcelain veneers are made, Dr. Patel will first affix them with a temporary paste. If you love them without hesitation, he will permanently bond them to your teeth. If you have any reservations, he will send the veneers back to the ceramist for adjustments or to be completely remade if needed.
Beautiful Smile Guarantee
Dr. Patel is committed to providing you with your most radiant smile. He will never permanently bond veneers to your teeth unless you are ecstatic with the results. Because of your close involvement in the smile design process, it's unlikely that you won't be thrilled with the results.
Interested in porcelain veneers?
If you're ready to get started with an examination, request an appointment online or call our office at (313) 885-9454. If you're not quite ready to commit to a paid exam, you can call the office to schedule a complimentary consultation. You will be able to visit the facility, meet the staff, and spend 10 minutes with Dr. Patel to ask him any questions you may have about porcelain veneers.