TMJ is an acronym for the temporomandibular joint, the juncture between your lower jaw bone and your skull. A complex joint, the temporomandibular joint moves in both hinge and sliding motions. Often, disorders associated with this joint are conversationally referred to as TMJ.
TMJ dysfunction can occur in the bones, ligaments, nerves, or teeth causing a variety of symptoms: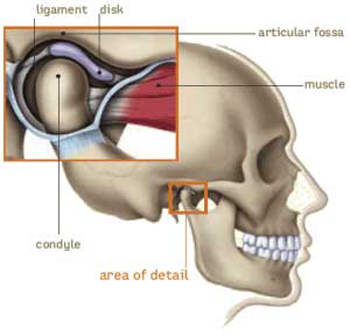 Headaches
Clicking or popping of your jaw
Pain in your jaw or neck
Difficulty chewing or biting down
Teeth grinding
Ringing in your ears
Dizziness or blurry vision
Facial numbness or pain
The exact cause of TMJ disorders is not known, and is probably the result of a combination of factors that could include stress, improper bite, arthritis or injury. Dr. Patel treats each person who seeks his help with TMJ pain or problems as absolutely unique, because each and every person presents with a unique set of problems related to this disorder.
What is a TMJ Dentist?
There is no official "TMJ dentist" designation in dentistry. Dr. Patel is licensed as a general dentist, but has received advanced training in TMJ treatment and holds a Masters in Operative Dentistry.
Diagnostic Process for TMJ Disorders
Before recommending any kind of treatment, Dr. Patel will perform a thorough assessment of your individual case, which will include a health history, x-rays, and clinical exam.
He will also ask questions to determine if you may have a sleep disorder such as sleep apnea, or bruxism, which is the clinical term for clenching or grinding your teeth. When he has gathered all information necessary to gain a full picture, Dr. Patel can then determine an individualized course of treatment.
Possible Treatments from a TMJ Dentist
Dr. Patel will always begin with the most conservative form of treatment, and progress as necessary to relieve your symptoms. A simple adjustment may resolve the problem, or multiple steps may be required—your treatment will be uniquely suited to your unique symptomology.
Treatments could include:
Non-aspirin pain relievers or medications such as analgesics, anti-inflammatory drugs, or muscle relaxants;
Physical therapy, including relaxation techniques to control muscle tension;
Stress management training, and posture relaxation techniques;
An oral appliance (occlusal splint) to address any grinding or clenching issues;
Orthodontics to assist in the realignment of an out-of-balance bite;
Oral reconstruction with crowns, to re-build your bite;
Surgery, as a last resort.
Schedule Your Appointment
If you are suffering from TMJ pain, don't wait. TMJ problems tend to worsen over time, and the longer you delay, the more issues will potentially need to be addressed. Schedule your appointment with Dr. Patel today to begin your journey towards a more pain-free life.