Dr. Ashish Patel was drawn to the profession of dentistry by his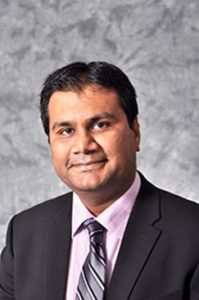 desire to help people. Growing up with both parents in the medical field, he admired the way his father, a doctor of internal medicine, and his mother, a nurse, impacted the lives of their patients for the better. Wanting to help people in the same manner as his parents, today Dr. Patel takes pride in providing his patients with life-changing results—relieving them of any dental pain and boosting their confidence by giving them the smile of their dreams.
Dr. Patel attended dental school at the University of Detroit Mercy. After earning his Doctorate of Dentistry (DDS), he went on to achieve a Masters (MSD) in Operative Dentistry at the Indiana University-Purdue University Indianapolis.
Dr. Patel's Treatment Philosophy
Dr. Patel believes that successful dental treatments are the result of teamwork between the dentist and the patient. As his patient, you will not only be highly involved with the planning of your treatment, but even more so in maintaining the health and beauty of your smile. Dr. Patel also emphasizes the importance of prevention. Together with his team, he will assess any risk factors that may influence your oral health, then tailor a treatment plan to manage your specific needs.
Professional Memberships and Accomplishments
American Academy of Cosmetic Dentistry
American Academy of Operative Dentistry
Advanced degree in operative dentistry
The Detroit District Dental Society
Pierre Fauchard Academy (An organization created to recognize "the most outstanding dentists in every country in the world" of the "highest ethical, moral, and professional standards.")
American Dental Association
Michigan Dental Association
Dr. Patel currently serves as a Clinical Assistant Professor and Clinic Lead at the University of Detroit Mercy School of Dentistry, and has received recognition for his teaching emphasis on critical thinking skills. In 2018, he was honored to accept the Leadership and Faculty Appreciation Awards. Most recently, the senior class of 2021 awarded him with the Dr. Charles Cooper Award for Most Outstanding Faculty.
He also lectures at various dental schools, dental meetings, and other teaching facilities, and has published research. For a more complete listing of his professional accomplishments, click here to read his CV.
Personal Life
Originally from India, Dr. Ashish Patel has lived in Michigan for 20 years. He and his wife Neelam, a biomedical engineer, are raising their twin sons in Woodhaven.