I got porcelain veneers for my birthday about 8 months ago. I was thrilled and like them. They're way prettier than my regular teeth. I'm a little worried though. I just went in for my first check up since then and the hygienist said it looks like I'm developing gum disease. she said I need to kick up my oral hygiene. But, I don't think that's the problem. I've always been quite good with my brushing and flossing and never had a problem before. If anything, I've been even more diligent. I even purchased a special toothpaste I read about for porcelain veneers called Supersmile. Can porcelain veneers cause bleeding gums?
Katherine
Dear Katherine,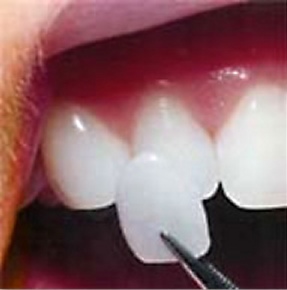 Porcelain veneers will not cause bleeding gums or gum disease. However, if you have a set of porcelain veneers which aren't properly placed, that placement can contribute to gum issues.
Have you had your dentist look at their placement? It's possible, if your dentist didn't place them flush against your teeth, you have something termed "bulky margins".
Bulky Margins with Porcelain Veneers
With bulky margins, it creates a tiny shelf on the top of the veneers. This traps food and other types of bacteria, leaving you quite vulnerable to decay.
Your dentist should be able to tell if that's what is going on. If you suspect it is and your dentist is unwilling to admit it, then you can get a second opinion. Tell him or her what you've been experiencing with your gums and ask him to look at your veneers and give you his thoughts.
If it turns out you do have bulky margins, he can help you with your dentist. He either needs to repair them or re-do them. If he doesn't, you will get gum disease, putting your teeth at risk.
In the meantime, get a water pick to help you get your veneers cleaned out as best you can.
This blog is brought to you by Grosse Pointe Woods Dentist Dr. Theodore Hadgis.