I went to see a so-called cosmetic dentist. I brought pictures of exactly the smile I wanted, including telling him I wanted a Hollywood white. I heard him tell his assistant to order A1. I assumed at the time that was the whitest shade. However, when I received my smile I was completely disappointed. The shape isn't at all what I asked for but rather a bulkier version of my old smile. The color was off too. Again, this was just a tad whiter (more like creamy white) than my natural smile. This is not what I asked for and it cost me a fortune. I since learned the color I wanted is called BL1.  When I confronted my dentist about it, he insists that's what he ordered. But, I KNOW I heard A1.  Is there anything I can do about this?
Marla
Dear Marla,
The first thing I'd do is ask to see the order. My guess is he will refuse to give it to you because it shows he lied to you and didn't follow your instructions. My suspicion is your dentist is your typical general dentist who only dabbles in cosmetic dentistry. Smile makeovers aren't taught in dental school. While A1 used to be the whitest shade, these days it is just considered a natural white. Not the Hollywood white you asked for. However, you know that already.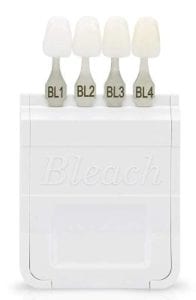 In the 90s, when teeth whitening started gaining in popularity, dentists needed whiter shades in order to match their cosmetically conscious patients. If they needed something like a dental crown, the old shade guide was no longer sufficient.
Ivoclar was the first company to catch up with patient needs. They created this extended shade guide. Dentists who are passionate about cosmetic work have it in their "toolbox". As you can see, the B1 shade you wanted is right there.
Your dentist obviously doesn't know enough about cosmetic dentistry. Something you said about it just being a bulkier version of your natural smile makes me wonder if he used a particular brand of porcelain veneers which is often marketed to inexperienced cosmetic dentists, called Lumineers. These tend to end up bulky.
Bottom line– you didn't get the smile you asked for or paid for. I'd say just ask your dentist to re-do it but I have doubts about his ability to truly give you the smile you want.
Instead, I think you should just ask for a refund. Then, to get it done right, I'd like you to find an AACD accredited dentist. These are the top cosmetic dentists in the country. The smile they give you will not only be what you want. It will likely even exceed your expectations. Plus, they will not be satisfied until you are thrilled.
This blog is brought to you by Grosse Pointe Cosmetic Dentist Dr. Theodore Hadgis.