I'm a little confused. I've seen some smile makeovers that were truly stunning. All of them were quite white. I talked to my dentist about wanting a smile makeover. He was fine with that and said he's done several. We met for a consultation to decide what type of smile I wanted. I actually knew exactly what I wanted. I described it and brought pictures. he said it wouldn't be a problem. I was so excited and couldn't wait. When the porcelain veneers were bonded on, however, it was quite a different story. They weren't nearly as white as I had described. The shape was fine, but I was completely disappointed with the color. I mentioned to him it wasn't what we had discussed. He told me that is the whitest natural looking smile you can get and anything else would look fake. That can't be right, can it?
Peggy
Dear Peggy,
There are a few clues here that your dentist isn't a true cosmetic dentist, but just dabbles in cosmetic dentistry. First, he bonded on your porcelain veneers without getting your approval first. A true cosmetic dentist would have used a try-in paste first. This way you'd have gotten to look at them and approve them. If you wanted changes, they could still be done.
The next issue is his attitude toward a "natural" looking smile. Look at the image directly below. this was considered the natural looking tooth colors that dentists used to help match a dental crown, etc.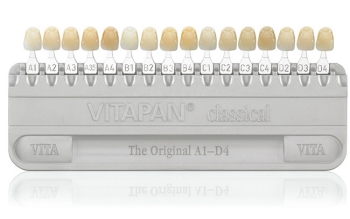 Then, people started getting their teeth whitened. The teeth whitening procedure was able to get their teeth whiter than the "natural shades". As a result, cosmetic dentists realized the demand for whiter smiles would increase and would become a new standard in natural. Now we have a new shade guide (pictured below).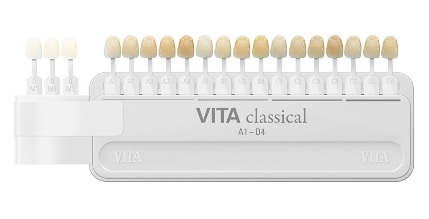 As you can see the added shades on the left are much whiter.
Your Veneers Won't Whiten
Unfortunately, only natural tooth structure whitens. Once your porcelain veneers are bonded on, the case will have to be done again from scratch. You have a good case for a refund because your dentist didn't follow your instructions and didn't get your okay before bonding them.
Once you get that refund, I want you to go to an AACD accredited dentist for the real deal.
This blog is brought to you by Grosse Pointe Woods Dentist Dr. Theodore Hadgis.