I have great difficulty in speaking certain letters, plus my smile is embarrassing. It is almost impossible to see my teeth, even when I smile. You can't see them at all when my mouth is in repose. I don't know what is causing it but I want to fix it. I also have tremendous jaw pain. The only time I get any relief is when I wear my nightguard. It is also the closest I come to having "teeth" you can see. Is there anything I can do to fix my smile? Will porcelain veneers be a good solution?
Carl
Dear Carl,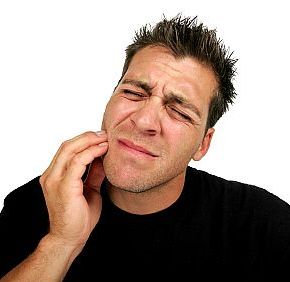 I'm glad I'm getting to deal with this question now instead of after a dentist had a chance to play around with this and cause severe problems. It sounds like what you're dealing with is a collapsed bite along with some pretty severe TMJ Disorder complications. Porcelain veneers will be too thin to build up your bite. What you need is a full-mouth reconstruction with dental crowns which can build up the bite, done by a dentist who has had extensive TMJ training as well as expertise in cosmetic dentistry to make it look beautiful as well.
The best postdoctoral schools for this type of training are:
The Las Vegas Institute for Advanced Dental Studies
The Pankey Institute
The Dawson Academy
I'm going to highly suggest you find a dentist who has thoroughly studied at one of these institutions. Generally, an AACD accredited dentist will have the qualifications you need.
Additionally, the dentist want to build up the reconstruction reversibly. What I mean by that is your dentist will need to do it first using nothing but temporary restorations. It will need to continue that way until you are certain things are correctly done. That means your restorations are occluding well, they feel completely comfortable, you can speak properly, and the teeth are visible when you smile.
Once that is achieved, they can make the permanent restorations out of the temporary ones.
This blog is brought to you by Grosse Pointe Dentist Dr. Theodore Hadgis.