I lost a tooth several years ago. It wasn't in an obvious place so I didn't worry about it too much. I recently got into an accident and lost the tooth next to it. This one is visible. I decided it was a good idea to fix both of them.
My dentist said I can't because there's not enough room for two dental implants. He wants me to do a dental bridge instead. I don't understand why if there were two teeth there, it is not possible to do two implants?
Jay
Dear Jay,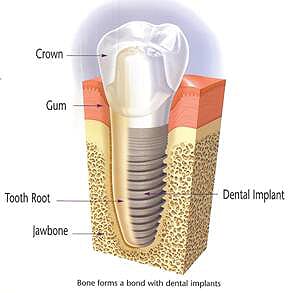 As you can see from the diagram above a dental implant is like having a natural tooth again. Like your teeth, dental implants have both a root and a crown.
The reason there likely isn't room for two dental implants is shifting. When you lost the first tooth, but didn't put anything in the space where the tooth was, the adjacent teeth slowly started drifting into the empty area. Now there's likely room for one implant, but not two.
That being said, a good dentist looks for creative ways to give their patients the best treatment possible. Okay, you can't get two implants in there. What if we put two crowns onto a single implant? That could work. Full-sized dental implants are strong enough to handle two crowns.
Dental Bridge Versus Dental Implant
The thing which concerns me about doing a bridge, especially in your case, is it removes healthy tooth structure unnecessarily. If you had a tooth missing and wanted a dental bridge, either to save money or because you don't like the idea of implant surgery, than fine.
However, you are a patient who clearly wants the best option. Unless the adjacent teeth were unhealthy and needed crowns anyway, it's a waste of great tooth structure to do a bridge. There is a time when it makes more sense to do a dental bridge instead of an implant. You're not in that situation.
Never Force a Dentist's Hand
My suspicion is your dentist isn't comfortable with the dental implant procedure as a whole. So, rather than say he doesn't do dental implants he is suggesting a procedure he is comfortable with.
While a little pressure from you may get him to agree to your procedure, that would be a bad idea. Pushing a dentist out of their skill set to get the treatment you want, usually doesn't end with the actual results you want.
Instead, you would want to go to an experienced implant dentist. Then you'll be able to get both teeth at once.
This blog is brought to you by Grosse Pointe Woods Dentist Dr. Theodore Hadgis.