I looked into getting Zoom Whitening done. It was a tad pricier than I was expecting. Don't gross out, but I read somewhere that in ancient times people would whiten their teeth with urine. Is that true? Don't judge me.
Name Withheld
Dear Name Withheld,
Your memory regarding history is accurate. The Romans used to use urine as a means of whitening their teeth. The ammonia in urine is why it works, though it is a slow process. It is also not the most hygienic method available. Throughout history, cultures have tried a variety of methods. The Egyptians would use ground up pumice mixed with vinegar. In the 1600s barbers cared for both hair and teeth. Though their whitening method worked— grinding down your teeth and adding acid — it led to serious problems with decay.
Before you run off to a barber with questionable historical hobbies or start collecting your urine, you have some options.
Paying for Teeth Whitening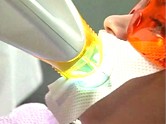 Zoom whitening is more expensive than at home whitening. This is because it uses more time at the dentist's office and the equipment costs more. The biggest benefit to this method is your teeth are completely whitened in just one sitting. However, you can save money by having your dentist make you custom teeth whitening trays and give you gel to use at home at your convenience. Your teeth can get equally white, but it will just take a bit longer — a few weeks as opposed to one appointment.
Other options include asking your dentist if he or she would allow you to pay it out. Some dentists have in office payment plans. Others have a free teeth whitening program as long as you keep up with your regular checkups and cleanings. Some offices work through Care Credit, which is a medical credit card. It has low and no interest payments and there is no penalty for early pay off.
Teeth Whitening's Limitations
Whitening your teeth is a fast affordable way to make your smile look years younger. You need to be aware it will only whiten natural tooth structure. If you have dental work done, such as fillings or dental crowns, they won't whiten along with your teeth. If they're visible, you'll want to replace them after your whitening is done to match.
This blog is brought to you by Grosse Pointe Woods Dentist Dr. Theodore Hadgis.